FROM CONCEPTION TO COMPLETION
LET'S CREATE YOUR FUTURE EXTERIOR
Alcamo Pools is a family-owned Gunite Pool Company since 1969. Our company is based in Suffolk County on Long Island, a midway point between Manhattan, the Hamptons, and Montauk.
 Alcamo serves an exclusive clientele by building unique in-ground residential and commercial GUNITE POOLS, SPAS, PATIOS, FIRE PITS, POOLHOUSES, SPORT COURTS, OUTDOOR KITCHENS & BARBECUES.  We also renovate existing gunite pools.
A BACKYARD'S OBSTACLES BECOME ALCAMO'S CREATIVE TIPPING POINT
Find the panacea to difficult terrain or unusual shaped yards – each pool is designed and hand-built to fit your backyard vision.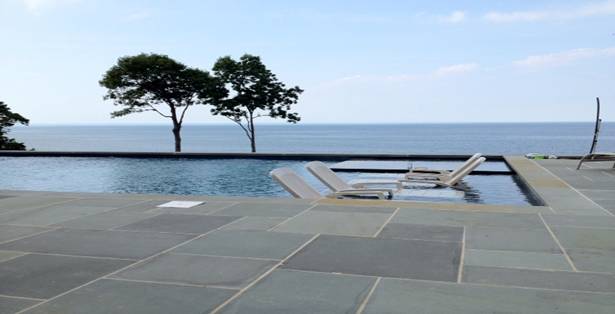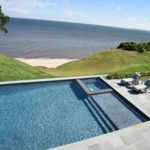 Alcamo Pool's Long Island client wanted to create a beautiful backyard and build an in-ground gunite pool that would not impede their breathtaking view of the Long Island Sound.  They wanted to enhance the scenery by assimilating the gunite pool and the Long Island Sound's natural beauty, as well as accommodate their growing family's entertainment needs.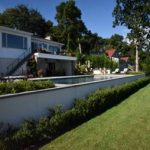 The beauty of their property allowed Alcamo Pools to finish the pool with lovely characteristics on all sides, so if the children are playing on the backyard property, their view is as fantastic as the view from the comfort of the home and outdoor living room.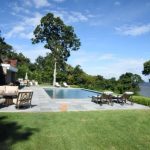 The homeowner chose a Patterned Bluestone for its masonry work. Alcamo created a flowing and panoramic pathway, connecting the front of the property to the backyard's patio, preserving the serene ambience. Alcamo's mason was also able to mix in complementary stonework which achieved an interesting accent to the gardens, house and yard.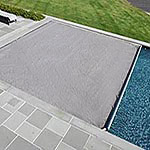 A clean and crisp automatic pool cover was installed for the safety of the children, (and the dogs!).  This allows the adults the satisfaction of knowing their family is safe when playing around their wonderful "centerpiece", their in-ground gunite pool. 
From every angle, an idyllic backyard was created for Alcamo's client that far exceeded expectations!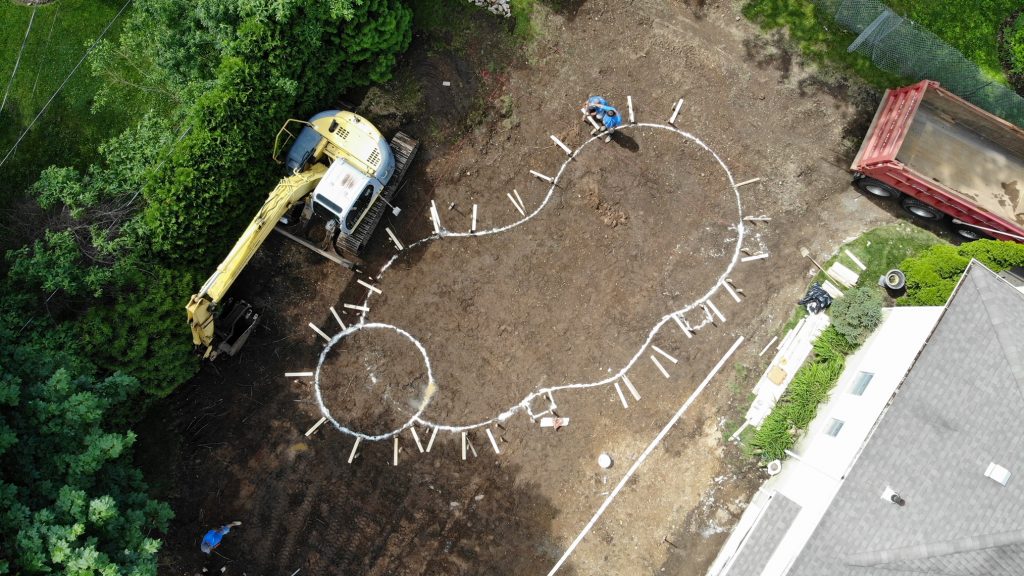 POOL DESIGN
Create your unique style. Do you crave a warm lake ambience or a minimalist, clean line?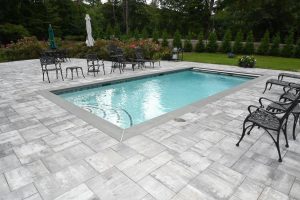 PATIO HARDSCAPES
Choose what patio stone you envision walking upon, while strolling around the pool with your morning coffee. Choices are Granite, Bluestone, Porcelain, Brick pavers, etc.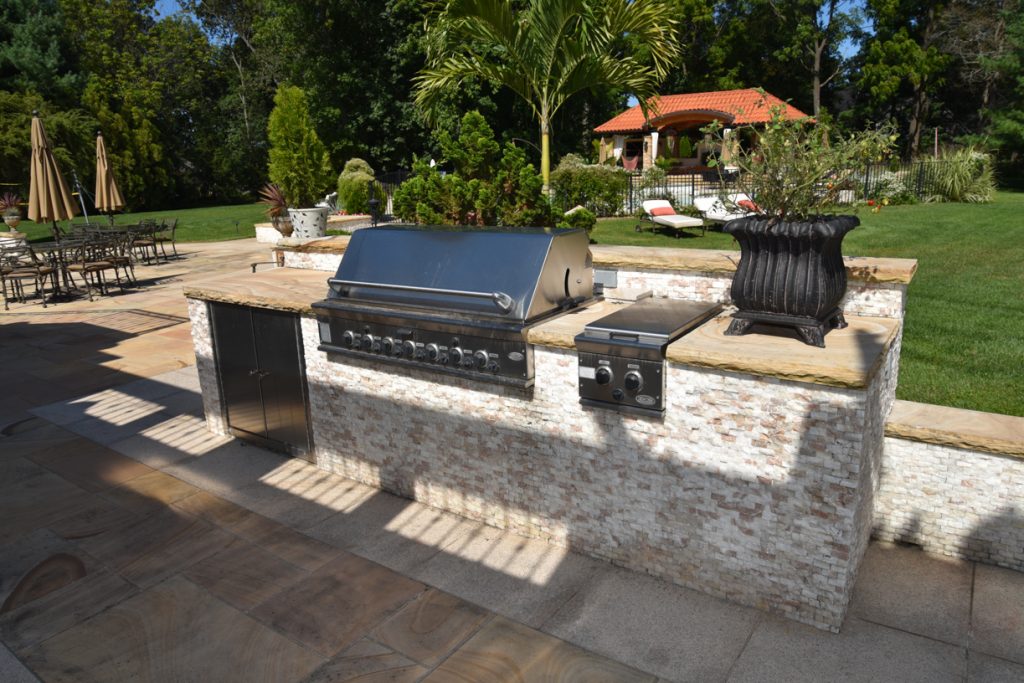 OUTDOOR KITCHENS & FIREPITS
Embrace the openness and freedom of backyard living – express your lifestyle!
Current design with old world excellence in craftmanship and engineering. Fifty years of pool-building and masonry experience, perfecting esoteric construction of your unique and individual gunite pool and backyard.
License # 5280-HI • H2204690000
ALCAMO POOLS
© 2023 All Rights Reserved.